About Our Cape Coral Vacation Rental Office
Our Cape Coral vacation rental staff with their 40 plus years of combined vacation rental expertise provide you with best in service! With vacation homes ranging from waterfront, beachfront and inland, the inventory consists of condominiums and private homes on the Island and nearby communities.
Why Rent From Us?
Why Hire Us?
Our Vacation Rental Staff
1
Why Rent From Us?
Coastal Beach Florida Vacations - Truly Remarkable Management Services
We offer Travel Protection to assure your peace of mind while planning and on vacation.
We consistently treat everyone with courtesy and respect.
We are goodwill ambassadors who always speak positively about our industry, our company and each other.
We identify and anticipate the needs of others and are empowered to take actions that exceed their expectations.
We embrace our vision and mission, believing that our individual performance affects the success of everyone.
We are committed to personal growth, professional development and innovation in the pursuit of excellence.
Our demeanor, appearance and facilities reflect our high standards.
We encourage an open exchange of ideas throughout the organization.
We are committed to identifying inefficiencies and communicating concerns, thus enabling us to improve our performance and systems.
We are responsible for protecting the assets and resources of our company.
We utilize our superior tools, resources and systems to provide our customers with exceptional service and guidance.
To provide the highest level of customer service, we support our family of companies and strategic partners.
We seek opportunities to recognize excellence.
As people of integrity, we conduct ourselves with the highest ethical standards.
We foster a culture where diversity is valued, quality of life is enhanced and individual aspirations are encouraged and fulfilled.
2
Why Hire Us?
MORE ABOUT COASTAL BEACH FLORIDA VACATIONS
3
Our Vacation Rental Staff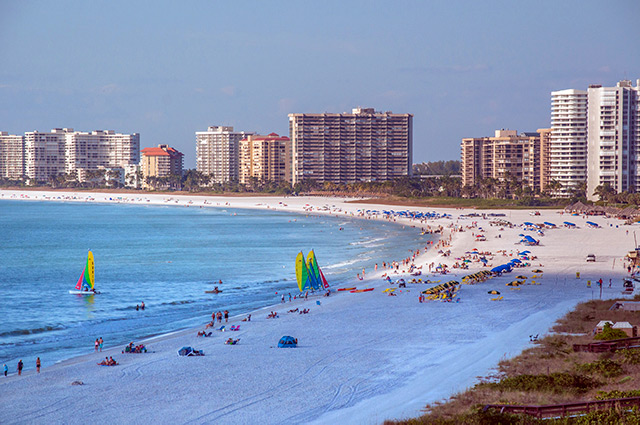 Nicki Hildebrant, Vacatioon Rental Specialist
NickiH@CBFloridaVacations.com
239-260-4054
Originally from Boston Massachusetts, Nicki moved to Marco Island in 1990 and has been working in Real Estate ever since, working on vacation rentals is her passion! She is a dedicated vacation rental agent specializing in the Marco Island, Fiddler's Creek, Marco Shores and Lely Resort communities. Nicki provides property owners marketing services to optimize their rental income. Guests know they can call Nicki to assist with booking a perfect vacation home; from golf course communities, condominiums and villas to homes and beachfront properties.

Carolyn Welker, Vacation Rental Specialist
CarolynW@CBFloridaVacations.com
239-244-3111